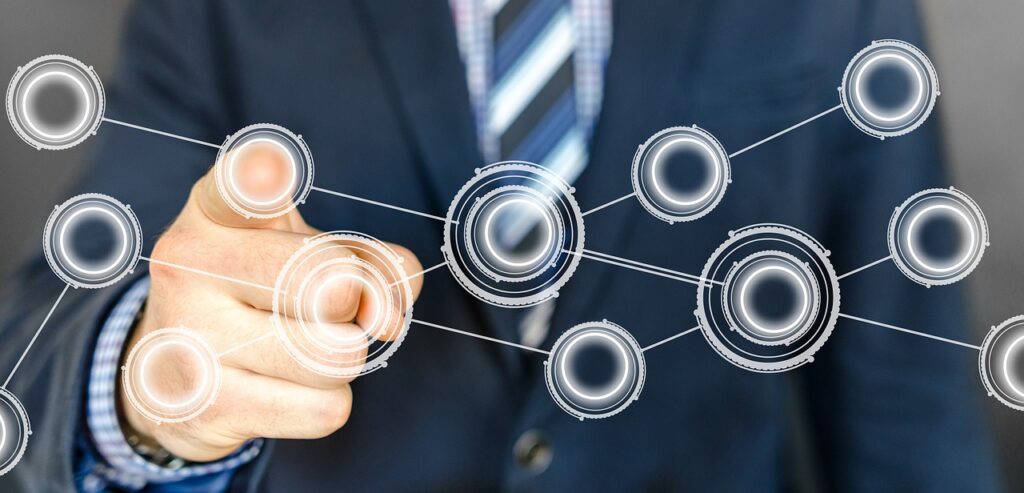 Indoor positioning is the process of determining the location of a device or person inside buildings or closed areas and 5 different indoor positioning system technologies can be implemented in your business.
Indoor positioning systems use one technology or a combination of technologies, including WiFi, Bluetooth, NFC, NFC, DECT tags, and GPS, to triangulate the position of a device or person. GPS, for example, is a perfect technology for outdoor positioning, while others are more used for indoor positioning.
Indoor positioning systems are becoming increasingly common as businesses look for ways to improve customer experiences, ensure safety for employees and optimize operations, especially in bigger factories, storage facilities, or hospitals.
For example, indoor positioning systems can be used to provide turn-by-turn directions inside a large building or campus or track the movement of inventory in a warehouse. While indoor positioning systems offer many benefits, they also come with some challenges, including the need for accurate mapping data and a potentially extensive installment process.
To ease up the decision of which technology is the best for your project and company, we have listed all possible indoor positioning technologies with their advantages and disadvantages.
At the moment 5 different indoor positioning technologies are used in a wide array of different projects: Wifi, Bluetooth, DECT, GPS, and NFC Tags.
Each technology has its strengths and weaknesses and we will do our best to advise you which technology is the best for indoor positioning.
Indoor positioning system technologies pros and cons
Wifi technology for indoor positioning
Pros
Wifi signal is constantly very stable
Low installation costs
Usually, the infrastructure already exists for common internet usage
Cons
Accuracy is much lower than Bluetooth technology. Wifi can be able to define in which room you are in the building, but not your position in that room. That can be crucial for hospitals and other sensitive areas.
Expensive installment and project price if you aim for higher accuracy.
Overall installment is quite complicated as you need a lot of cables, expensive Wifi stations and managing drilling works.
Bluetooth technology for indoor positioning
Pros
Bluetooth beacons are usually not an expensive devices, so with a bigger amount of beacons you can aim for very high accuracy
High accuracy not only in the building but in separate rooms. Bluetooth technology is easily able to determine your position in the room.
Availability to use Bluetooth technology system for indoor positioning together with a smartphone
Easy to install
You will not need any cables or drilling works, because Bluetooth beacons use batteries.
Bluetooth beacons are as well very easily portable – so you can not only use them on walls, and ceilings but on devices as well.
DECT devices can read the Bluetooth signal, so it is very compatible and easy to work with both technologies.
Easy to use existing beacons infrastructure if you have one already in your building
Cons
Beacons require to put new batteries every few years
If you do not need high-level accuracy in a huge area, the investment is not worth it
DECT technology for indoor positioning
Pros
The signal is constantly very stable
They are compatible with the Bluetooth signal
Very long-range signal
Cons
Hard to get a high level of accuracy, because you have few antennas in the closed area (placed far away from each other). The further away the antennas are located, the harder it is to acquire high accuracy.
Expensive technology if you aim for high accuracy
Old and not trendy technology. Not being constantly developed.
Is not usually used for asset tracking.
GPS technology for indoor positioning
Pros
Excellent for outdoor positioning
Cheap technology
Always up-to-date technology and constantly developed
Usable for huge outdoor areas
Compatible with smartphones
Can be combined with higher accuracy indoor positioning such as Bluetooth to cover not only inside areas but outside as well.
Cons
Very low accuracy for indoor positioning
Not possible to distinguish between different floor plans. If a building has more than one floor, GPS technology will not be able to determine on which floor is your colleague or asset.
NFC Tags technology for indoor positioning
Pros
Very easy to install
Cheap technology
Compatible with smartphones
Portable
Cons
Only good for a fixed position (do not follow moving objects)
New Voice International business cases
New Voice International has developed multiple indoor positioning projects in Europe.
We have created an indoor positioning system for Zugersee Klinik in Switzerland using a hybrid method. Zugersee Klinik already had DECT technology installed on their premises, so it was very easy to install new beacons and create a seamless indoor positioning system that covers the whole area.
Further reading here: Zugersee Klinik indoor positioning business case.
Another good example of using different technologies is EPI Klinik in Zürich.
In a huge area that covers more than 70 football stadiums, and has dozens of different sizes buildings we installed more than 1500 beacons for the indoor positioning system which assures very high accuracy. Not only that, for the outdoor positioning we used a combination of specific BLE beacons designed for outdoor and GPS technology, so the personnel is able to see the position of their colleagues and patients not only in the indoor places but outdoors as well.
Further reading here: EPI Klinik indoor positioning business case.
Conclusion
An indoor positioning system can be a perfect solution for companies who want to position not only their assets but colleagues as well (it is a perfect way for your company's lone worker protection).
Using the newest technologies we are able to aim for very high accuracy in your premises, which will help to avoid stressful situations and react to occurring emergencies.
So what indoor positioning system technologies are the best for your business?
If you are looking for a very high-accuracy indoor positioning system, we advise using Bluetooth technology.
If you are looking for the best outdoor positioning system – the GPS is the way to go.
If you happen to have existing Wifi or DECT systems already in your building – let us take advantage of that and reduce your project costs.
If you have any questions about indoor positioning, we would be more than happy to assist you.